​​5-HTP - a potent weight loss and mental health aid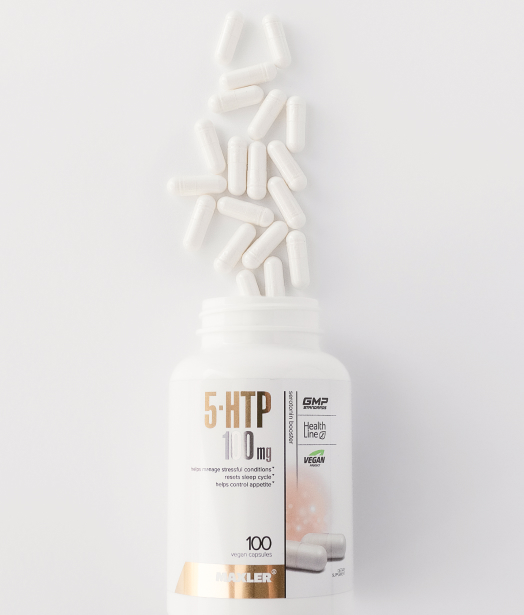 serotonin booster
resets sleep cycle
helps control appetite
Your brain needs to pass on complex messages between its cells – neurons. To do so, it uses neurotransmitters and hormones. Serotonin is a neurotransmitter that carries some of these signals between neurons. It plays important roles in processes and states like learning, happiness and even sleep.
5-HTP is a compound that the body can produce serotonin from. This compound has a variety of benefits that can support a healthy body, benefiting those who might be looking to lose weight, improve their sleep or need help with improving their mood.
How 5-HTP can benefit you
For those looking to lose some weight, 5-HTP can be a potent aid. Serotonin helps regulate our digestion and helps us feel fuller, as it can interact with the mechanism that the body uses to control hunger. As you lose weight, your body can make more hunger signals, so decreasing them through supplementing 5-HTP can help.
5-HTP is also a great addition for mood regulation. In addition, the formula contains vitamin C, which boosts its beneficial effect. For those that suffer from migraines, 5-HTP can decrease their frequency.
For those wanting to improve their sleep, 5-HTP can promote it as melatonin is made from serotonin. It can make it easier to fall asleep. Pairing 5-HTP with GABA can further improve sleep quality. Vitamin B6 is involved in this process, and its addition to Maxler 5-HTP 100 mg ensures you're benefiting to the max.
5-HTP can therefore support you, whether you're a busy office worker who would like to improve your sleep and mood, or if you're someone looking to shed some pounds. These vegan capsules contain high-quality 5-HTP alongside vitamins C and B6, which boosts its efficiency.