​​Folate – the nutrient for your brain and more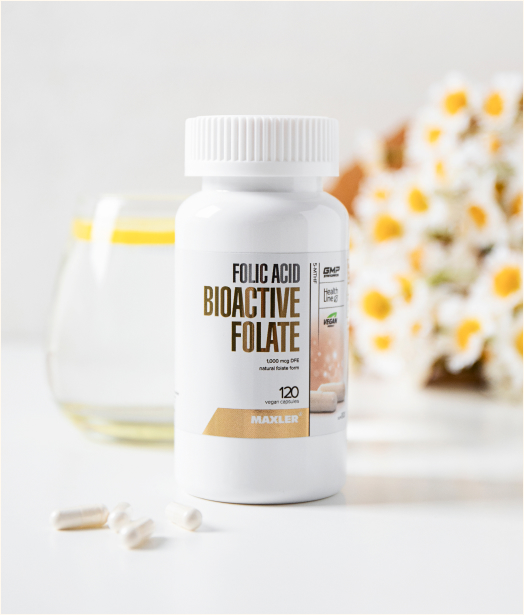 5-MTHF
most bioactive form of folic acid
improves cognition and brain function
Vitamins help us with keeping a healthy body. Folate, one of the many B vitamins, is one with a myriad of functions in our bodies. Folic acid is the form it takes on when in food. This vitamin helps repair our genetic material and make more of it. It's an essential assistant for the creation of new blood cells. These carry oxygen, allowing our cells to function normally.
The benefits of folate for overall health
The association between folate and pregnancy is strong. However, folate is not an exclusively pregnancy-related vitamin. Here are some lesser-known health benefits of folate:
Helps with maintaining a healthy brain – it decreases inflammation, boosts brain function, and improves our ability to think.
Great for your mental health – it helps make neurotransmitters, the signal molecules of our brains. It can improve mood.
Fertility – not only does it help with releasing eggs and improving the chances of pregnancy, but it might also help men who struggle with fertility. Combined with zinc, it may increase men's sperm count. It's a win-win if you're looking to start a family!
Keeps your heart healthy – folate decreases inflammation, blood pressure and levels of homocysteine. Homocysteine is an amino acid that is related to heart issues when present in high amounts. This vitamin lowers homocysteine, keeping the heart healthy.
For those that are expecting
This vitamin ensures that the organs grow correctly in the baby. Its main role is in the forming of the neural tube – this becomes the baby's spine and brain and it grows. For a healthy pregnancy and to prevent developmental issues, ensure to take in enough folate.
Folic Acid Bioactive Folate meets your folate requirements, whether you're taking it for your brain or because you're planning to start a family. Maxler Folic Acid Bioactive Folate contains folate in its most bioavailable form, ensuring your body is benefitting from it.