Less stress, better sleep, and health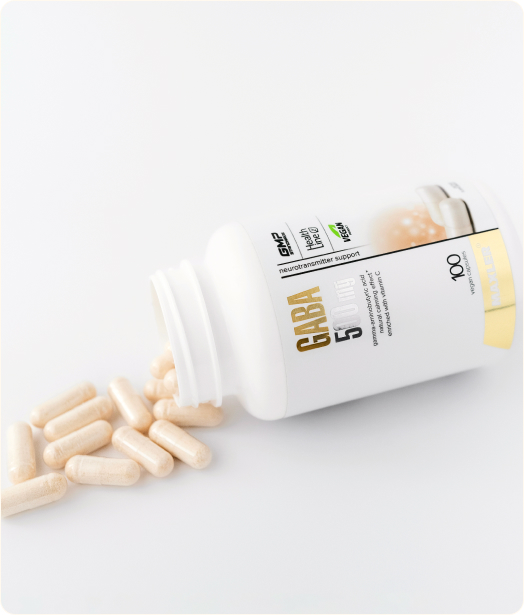 gamma-aminobutyric acid
natural calming effect
enriched with vitamin B6
Our brain is a complex organ, sending lots of signals between neurons, our brain cells. Some of these signals excite the neurons, increasing occurrences of signaling. This is caused by neurotransmitters like glutamate and dopamine. Other neurotransmitters calm the neurons down, preventing a signal from being sent. GABA, or gamma-aminobutyric acid, is one of the neurotransmitters that help the brain relax.
GABA's ability to calm the neurons down plays an important role in conditions like anxiety and sleep. But GABA's benefits don't end there.
GABA for better health
Currently, a lot of us experience stress, and we need a way to support our brain when we are under stress. Stress can affect many things, including our sleep. A GABA supplement can help us relax and help us go to sleep easier. Maxler GABA 500mg includes vitamin B6 in its formula, which can further boost GABA's effect and help promote better sleep.
Anxiety is also a common condition and can even be a side effect to stress. GABA can support those with anxiety through its relaxing and calming effects.
If you're looking to improve your heart health, GABA can also benefit you. GABA may be able to improve blood pressure and decrease the amount of fats in the blood. This can help you stay healthy and age healthily.
GABA is a great supplement for those looking to take care of their brain or their heart. For the ones that have a stressful job, GABA can promote relaxation and help you better cope with stress. Choose Maxler GABA 500mg for a vegan supplement containing additional vitamin B6 to boost GABA's effects.