Multi-protein power for better performance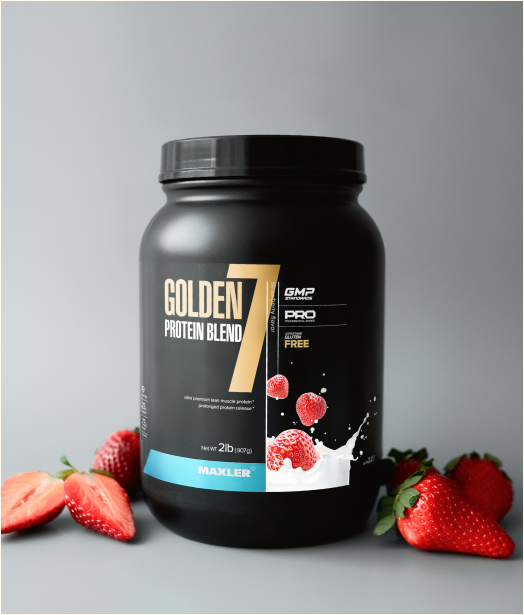 ultra premium lean muscle protein
prolonged protein release
decadent milkshake flavor
Nutrition is directly connected to performance. It helps fuel our workouts, build muscle, recover from strenuous exercise, and keeps us healthy. One of the most important macronutrients for our performance remains protein. It supplies amino acids, which body uses for multiple purposes. However, proteins differ in their composition and their digestibility, affecting your performance.
Golden 7 – a powerful protein blend
Maxler Golden 7 Protein Blend was designed with these differences in mind. We've combined multiple sources of protein for a proper protein kick. Hydrolyzed whey proteins provide a quick source of amino acids while the casein blends help nourish you for hours after you've had your shake.
So, what can this protein blend do for you?
Stronger muscles – amino acids help muscles rebuild after exercise, increasing their size and strength;
Sturdy bones – protein is needed for a strong skeleton, especially as we age;
Metabolic boost – protein helps you burn calories when you eat it;
Better recovery – helps your muscles bounce back after training;
Supports body composition – it can keep you full for longer and increase the amount of lean mass you have;
Keeps you healthy – protein is needed for proper function of our cells, hormones and our immune system.
Maxler Golden 7 Protein Blend offers a combination of the highest quality proteins to support your performance and your sporting needs. This protein powder is versatile, making it a great option for a breakfast, a post-workout recovery drink or simply a snack during the day.