A powerful energy blend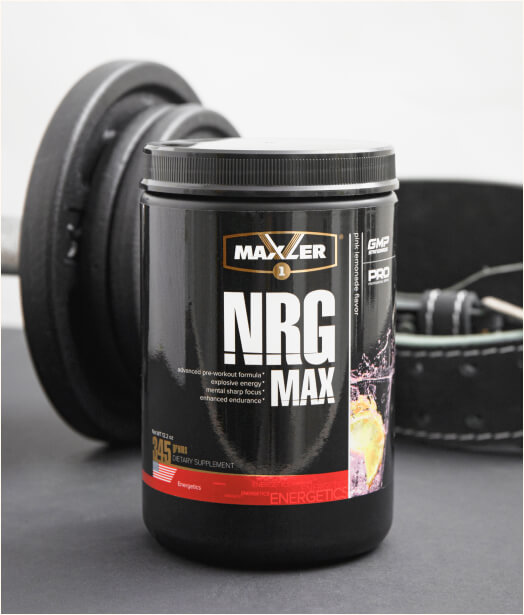 explosive energy
mental sharp focus
enhanced endurance
Working out and progressing in the gym and the court requires dedication, consistency and discipline. On days when we're lacking energy due to stress, low sleep, or a myriad of other things, we need an extra kick to get ourselves going. That's where NRG Max, a powerful complex of pre-workout ingredients comes in.
Supercharging your energy
We believe that pre-workout supplements should energize every aspect of your workout, from your muscles to your concentration and to recovery. That's why we've combined 5 complexes of active ingredients that are known to boost every aspect of your workout.
This powerful combination of ingredients contains:
Energocore Complex – the ingredients in this complex are specially selected to provide you with an energy kick. Combining caffeine with plant extracts known to increase performance and decrease fatigue makes this a powerful energy booster.
Power Max Complex – for those explosive movements, we've combined L-Citrulline, Beta-Alanine and three types of creatine. These ingredients are known to help your muscles produce energy needed for training and improve your performance.
Turbofocus Complex – to keep your head in the game, we've combined three ingredients known to boost blood supply to the brain and improve concentration.
MyoRecovery Complex – to nourish your muscles and help them build new muscle fibers, we've recruited the branched chain amino acids. They act directly on your muscle and help boost musclebuilding and decrease soreness after a workout.
Vitamin and Mineral Complex – we've combined vitamins that help your body release energy to ensure you stay powered through your workout. Magnesium in the formula helps support muscle contractions.
Maxler NRG Max is a powerful way to supercharge your workouts. Whether you're not feeling up to it or you've had a stressful day, you can rely on NRG Max to help you get your head in the game. Power this supplement with discipline for a winning combination.