A superfood for great health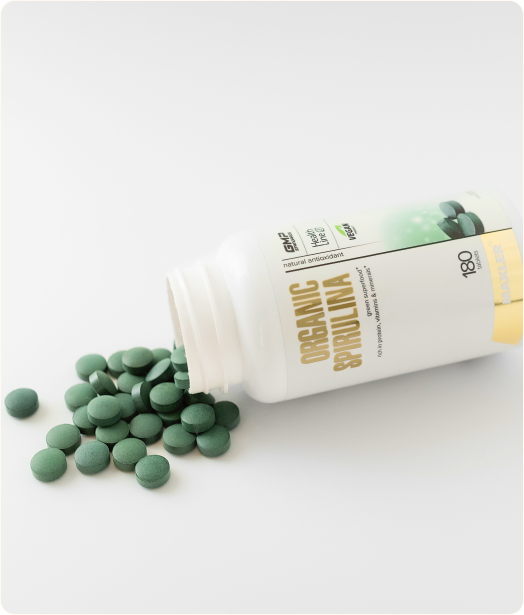 maintains cardiovascular and brain health
promotes endurance and muscle strength
natural antioxidant
Spirulina is a microalga which grows in water. It has an exceptional nutritional profile and has even attracted the attention of NASA scientists as potential food for the future.
Spirulina is high in complete protein, meaning it has all the essential amino acids. It has a great vitamin profile, being rich in vitamin A, E, and K. It has high levels of iron, magnesium, and zinc, as well as other minerals. These micronutrients ensure that your body can carry out all its processes to keep you in good health.
Alongside that, it provides phytonutrients and carotenoids that assist in preserving health. These range from helpful omega-6 fatty acids, and antioxidants like zeaxanthin, to chlorophyll. Omega-6 fatty acids regulate metabolism and keep the bones healthy.
Antioxidants help with protecting cells from cellular damage, while chlorophyll assists with wound healing and weight loss.
How spirulina supports your health
Alongside a great variety of nutrients, spirulina can support many bodily systems, improving:
Cardiovascular health – spirulina can help with managing fat, sugar, and cholesterol levels in the blood. It can help with regulating blood pressure and ensure you're getting enough iron.
Inflammation – antioxidant and anti-inflammatory compounds in spirulina help protect your cells from damage and keep your health great.
Allergies – since spirulina helps with decreasing inflammation, it can lower sneezing and nasal congestion which happens with allergies.
Mental health – it contains tryptophan, which is needed to make serotonin, a neurotransmitter which regulates mood.
Immunity – it can boost immune system function as it has antioxidant properties.
Spirulina assists in maintaining great health no matter your age. For a high-quality spirulina supplement, choose Maxler Organic Spirulina, providing 1500 mg of spirulina in each serving.