A Powerful Formula for Muscle Performance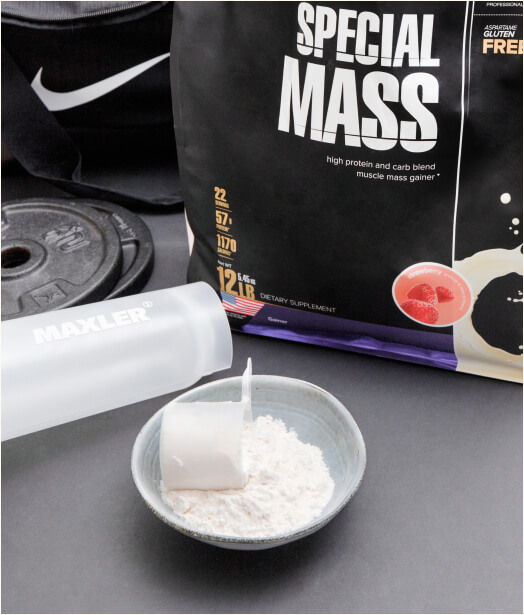 muscle mass gainer
1170 kcal & 57g protein per serving*
contains enzymes for better digestion
Gainers are protein-carbohydrate powders aimed at gaining mass faster. Do you need to gain or maintain body weight, but find it difficult to prepare a variety of dishes in the right quantities, or you have a busy schedule? Then gainer powder is your answer. Gainers are protein-carbohydrate powders aimed at gaining mass faster with no extra hassle.
What's so special about Maxler Special Mass gainer?
Special Mass is a scientifically engineered and an extremely powerful mass builder formula that is designed for active people who demand the benefits of top quality proteins, increased amounts of complex carbohydrates and nutrients for optimum health and muscle performance.
Every serving of Special Mass delivers 5 different premium grade proteins such as Whey Protein Concentrate, Whey Protein Isolate, Milk Protein Isolate, Micellar Casein and Whey Protein Hydrolysate.
The high-quality Carbo Blend creates a sustained release of nutrients critically important to your mass gain phase providing the ultimate mass fuel and promoting faster growth.
The massive BCAA blend helps to improve performance, prevent muscle breakdown and speed recovery.
The premium Enzyme Blend enhances digestion and ensures that you get the greatest possible nutritional value from your protein drink. And all this comes with an unbelievably delicious flavor!
Special Mass is created especially for individuals that find it hard to gain mass, as well as athletes that need a high carbohydrate meal to complement an endurance-training program.