Naturally supporting health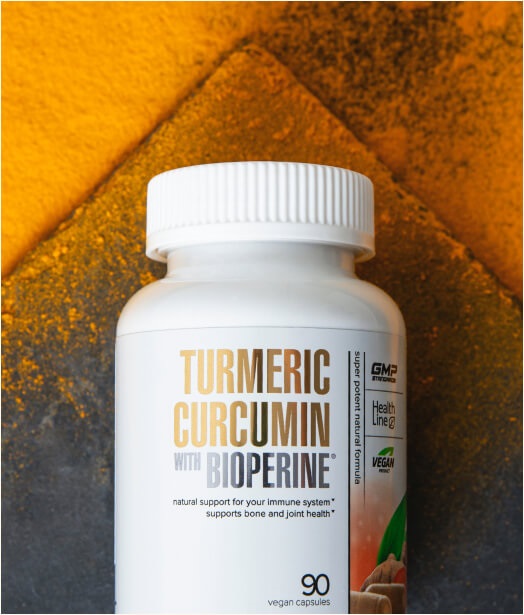 natural support for your immune system
supports bone and joint health
with black pepper extract
A common Asian spice with a reputation as a superfood is turmeric. Turmeric is full of polyphenols called curcuminoids, which are compounds found in these plants that are beneficial for health. Curcumin is one of the polyphenols responsible for turmeric's health-boosting properties.
Supporting the body
Curcumin supports many processes in our bodies, keeping us healthy through:
Decreasing inflammation – curcumin is anti-inflammatory and is an antioxidant. It supports our body's ability to fight off infection. It can prevent chronic inflammation.
Slow aging – the antioxidant capacities of curcumin prevent oxidative damage, which plays a role in aging. It can also boost the function of other antioxidants.
Supporting brain function – curcumin may be able to improve our ability to remember and increase our attention. It can also keep our brain in top shape with aging.
Supporting mood – curcumin can help us with improving mood.
Improving heart health – curcumin can support the health of our heart, improving the way our blood vessels regulate blood pressure. Its anti-inflammatory properties further boost its supporting function.
Improving joint health – due to its antispasmodic and anesthetic properties, curcumin can help to relieve joint pain and reduce ligament inflammation.
Maxler Turmeric Curcumin with Bioperine is a great way to support all aspects of health, from your brain to your joints. This vegan, gluten-free supplement is easy to incorporate into any lifestyle.