An amino acid for supporting the skin, bones and mental health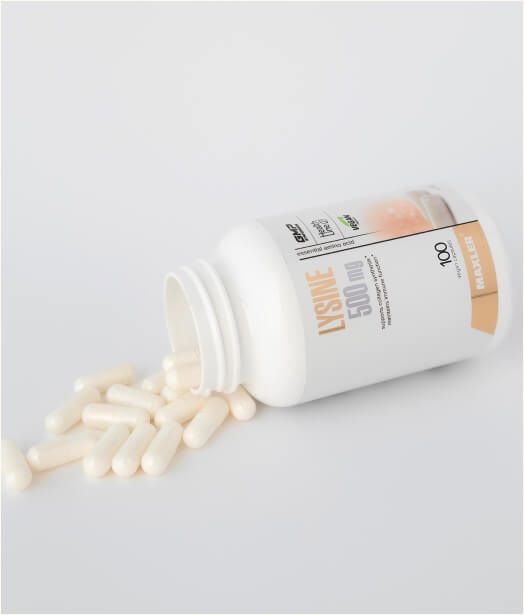 supports collagen synthesis
maintains immune function
promotes energy production
Our bodies have proteins, which are made up of amino acids. However, our bodies use certain amino acids for other purposes, for example, for producing energy, recovering from exercise, improving mood and even boosting our immune system.
Lysine is one of the amino acids that make up our proteins. For example, lysine is used to make collagen. Collagen is the protein that provides structure to our skin and helps keep our joints moving. A healthy and active lifestyle can benefit from additional lysine, as it can:
Improve wound healing – lysine can help with attaching new cells at the wound site and increase the growth of new blood vessels.
Improve your calcium levels – lysine helps calcium get absorbed from your intestines. It can also help your body hold on to it. This keeps the bones strong and helps to potentially prevent the formation of calcium buildup in blood vessels.
Lessen stress – lysine can block certain receptors that pass on stress signals. It can even help reduce the amount of cortisol, which is a stress hormone.
Support fat loss – this amino acid is used to make carnitine, which helps shuttle fatty acids into the mitochondria and use them for energy, increasing fat burning.
Support immunity – lysine helps the immune system function well, and prevents disease in some cases.
Maxler Lysine 500mg is a vegan supplement that contains 500 mg of this beneficial amino acid in each capsule. This supplement will suit those looking to support their bone health, build muscle, as well as improve their mental health.