Maximum for men every day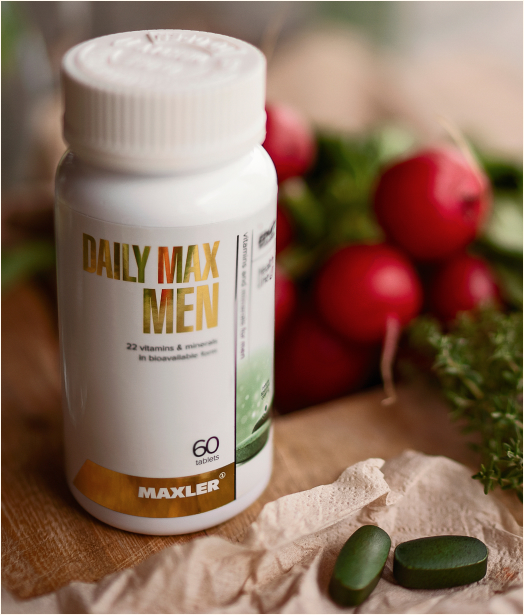 22 essential vitamins & minerals
bioavailable form of the components
contains lycopene
A man's physical and emotional well-being depends on adequate nutrition. At the same time, the nutritional needs of men differ from those of women. Men and women usually have different way of life, different stress sources, levels of physical activity. Their bodies are different too.
Of course, food serves as a natural source of vitamins and minerals. But when it comes to stressful situations, increased physical or mental activity – this is not enough to meet the needs that arise.
Benefits of the components of Daily Max Men
Daily Max Men provides a comprehensive effect on all body systems:
Strengthens the cardiovascular system;
Promotes the immune system;
Supports muscles and joints.
Men should pay attention to vitamin and mineral complexes that contain B vitamins, calcium, magnesium. Together with antioxidants they are essential to stabilize blood pressure and improve mental alertness. Daily Max Men also contains one of the most powerful antioxidants, lycopene, which has unique effects on blood vessels – promotes their elasticity.
Zinc, vitamins D, C and A are the so-called immunonutrients. Their action is aimed at the healthy functioning of the immune system and increasing the body's resistance to infection.
Calcium, magnesium, and vitamin D are essential for bone and muscle strength.
How can you benefit from Daily Max Men with increased physical activity
With increased physical activity, the body draws on an increased amount of resources, including vitamins and minerals. The most important for those engaged in physical activity are calcium, zinc, magnesium, B vitamins and vitamin D, as well as some antioxidants such as vitamins C and E, beta-carotene and selenium. Daily Max Men contains all of these components.
From the bioavailable form of vitamins and minerals to the natural spirulina-based coating, each component of Daily Max Men is designed to improve overall health. The high bioavailability, guarantees full absorption of the nutrients and their further delivery to the body cells.