A mineral to care for your blood sugar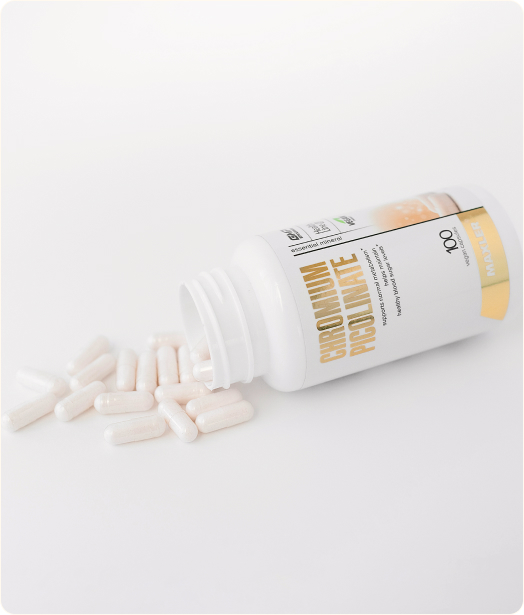 supports normal metabolism
helps maintain healthy blood sugar levels
helps maintain body shape
Chromium is a mineral that we need small amounts of and must get from our food. Chromium plays a role in important body processes. It is hard for our body to absorb it directly from food though, so chromium supplements can help you meet your daily requirements.
Helping cells take in sugar
Our cells rely on blood to provide them with the sugar they need to function. Insulin works like a key, sending signals to the cell that it should take in glucose. Chromium helps to increase those signals, so that the cell can effectively take in glucose, amino acids, and fats.
Chromium supplements can help those who may be less sensitive to insulin.
Other benefits
Chromium can benefit those that are trying to keep their blood pressure in check, as it can lower blood pressure. It can decrease levels of bad cholesterol and increase good cholesterol, which supports heart health.
Chromium can help with decreasing hunger and food cravings, which is helpful for those trying to lose weight.
Chromium may also increase uptake of tryptophan. Tryptophan is an amino acid that can be converted into serotonin – one of the "happiness" hormones, which affects our mood.
Maxler Chromium Picolinate is a great supplement for those that are looking to increase their chromium intake. This supplement is vegan, gluten-free, and will easily fit into your routine.