Maximum for women every day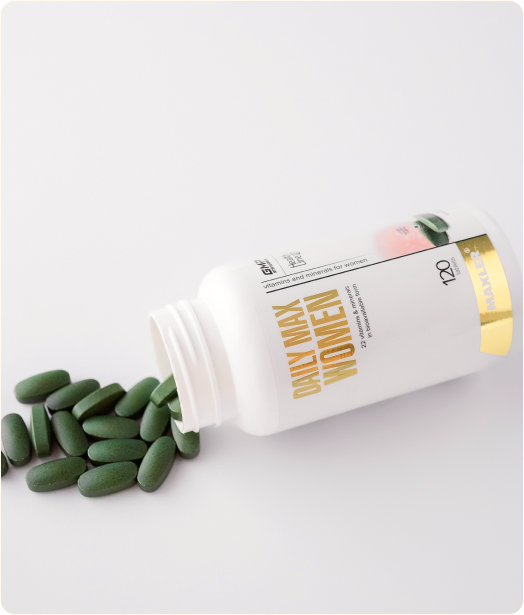 22 essential vitamins & minerals
bioavailable form of the components
for health and beauty
Vitamins and minerals are important for women's good health. For vitamins and minerals to work properly in the body, it is necessary to provide them in a comprehensive way. Women and men have different needs for vitamins and minerals. Men and women usually have different way of life, different stress sources, levels of physical activity. Their bodies are different too.
A woman's body undergoes many changes throughout her life, physical, mental and hormonal, which makes it prone to an increased need for certain nutrients. To meet the unique needs of the female body Maxler has developed a vitamin and mineral complex for women Daily Max Women.
Benefits of the components of Daily Max Women
Daily Max Women provides a comprehensive effect on all body systems:
Helps the brain function;
Strengthens women's health;
Supports skin, muscle and bones health.
B vitamins and magnesium are indispensable for improving mental performance; they help control stress and calm the nervous system.
Folic acid, and zinc are essential to women's reproductive health. Zinc promotes active cell division, synthesis of sex hormones, and blood formation. Selenium and iodine are important for the proper functioning of the thyroid gland, which produces hormones that affect many systems and processes in the body, including metabolic rate, blood flow and, consequently, the normal menstrual cycle.
Daily Max Women contains calcium, magnesium, vitamin D, antioxidants (vitamin C, molybdenum, vitamin A) – all these vitamins and minerals ensure bone and muscle strength. Good skin condition, its firmness and elasticity also depend on these micronutrients.
How can you benefit from Daily Max Women with increased strain on the body
Whether it's sports or pregnancy, your body uses an increased amount of resources to cope with this increased workload. The most important in these circumstances are calcium, zinc, magnesium, B vitamins and vitamin D, as well as some antioxidants such as vitamins C and E, beta-carotene and selenium. Some strengthen the musculoskeletal system, others participate in energy production, while others contribute to normal metabolism, growth and development of new cells.
From the bioavailable form of vitamins and minerals to the natural spirulina-based coating, each component of Daily Max Women is designed to improve overall health. The high bioavailability, guarantees full absorption of the nutrients and their further delivery to the body cells.
Daily Max Women is designed specifically for women. It helps to maintain beauty, reproductive health, vitality, relaxation and also helps to resist infections.