A fruity twist on health support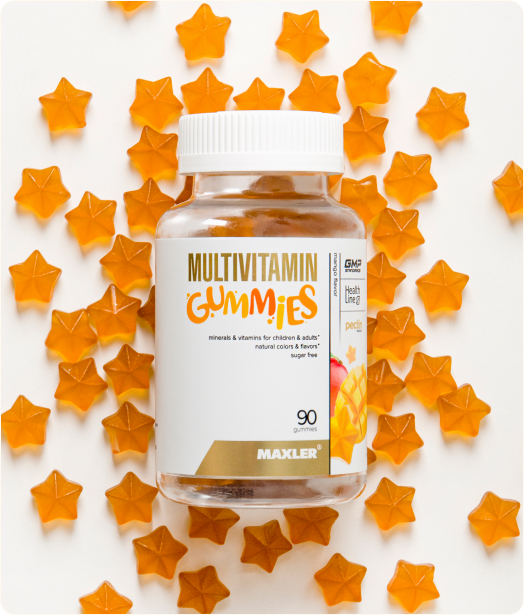 vitamin and mineral complex
supports immunity
sugar free
To maintain good health, people need to get enough vitamins and nutrients. A balanced diet serves as a natural source of these micronutrients. Barriers to implementing good nutrition in practice are, for example, seasonality of foods, particularly fruits and vegetables, busy schedule, and many other factors. Taking vitamins in supplement form can be a great way to add needed nutrients to your diet.
What is so good about Maxler Multivitamin Gummies?
Multivitamin Gummies contain bioavailable essential nutrients for cellular repair, energy replenishment and healthy metabolism to support your body's natural immunity.
Each serving provides antioxidant vitamins C, E and A as well 6 different B vitamins and minerals, which naturally support immunity, digestion, bones, and skin health.
Vitamin A is involved in the formation of the bone system, teeth, and in the growth of new cells. It has a beneficial effect on vision. Vitamin E helps vitamin A to be better absorbed by the body. Vitamin C plays an exceptional role in strengthening and maintaining immunity. Vitamins A, C and E are powerful antioxidants – protecting cells from free radical damage.
Vitamin D3 promotes healthy bones, muscles and teeth. It supports normal immune function, increasing the body's resistance to various diseases.
Vitamin B5 accelerates tissue regeneration. Vitamin B6 is essential for carbohydrate metabolism, and together with vitamin B12 helps maintain a healthy nervous system. Vitamin B7 is necessary for normal metabolism of carbohydrates, proteins and fats in the body. Vitamin B8 and choline are important for brain function. They are especially involved in memory and concentration processes. Vitamin B9 is essential for the growth of new cells, plays an important role in the maintenance of muscle tone in the gastrointestinal tract, functioning of the nervous system.
In addition to the health benefits, Multivitamin gummies have an amazing taste of mango that everyone will love!
Multivitamin Gummies vitamin and mineral complex is a perfect supplement for adults and children living an active lifestyle.