More than just a multivitamin for women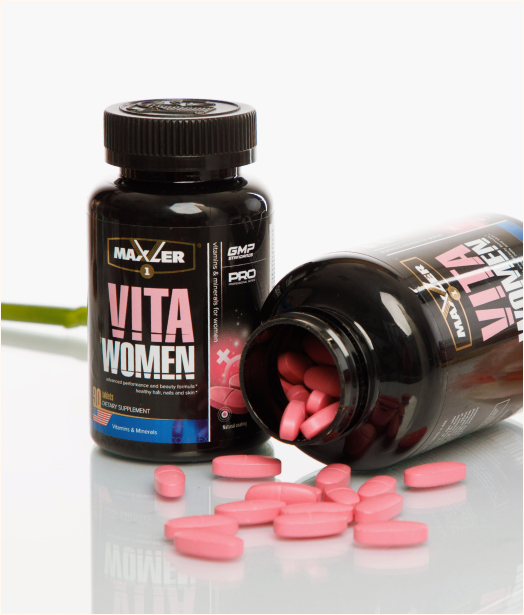 vitamins and minerals for active women
promotes healthy hair, nails and skin
supports immune system
If you're a woman that's got a busy life and training schedule, whether that's because you're also striving for a promotion, or because you're taking care of your children, it's essential for you to stay healthy. For a healthy life, you need to find enough time to exercise, de-stress, and eat well. Getting all of your essential nutrients can sometimes be hard, and you might seek the help of a multivitamin to help you stay on track.
VitaWomen is designed for active women of all ages who need a multivitamin that works just as hard as they do. It contains large amounts of all the necessary vitamins, as we know that water soluble vitamins like vitamin C often leave the body with sweat. It contains additional ingredients that support all aspects of life, including skin health, reproductive health, and cognitive health.
VitaWomen – supporting you to the max
VitaWomen provides the best of both worlds. It is a multivitamin made for women providing you with 13 vitamins and 9 minerals alongside a variety of additional beneficial components, such as:
Cranberry fruit extract – cranberries contain lots of antioxidants, and cranberry extract can help improve heart health and strengthen your immunity.
Phytoestrogen blend – the phytoestrogen blend contains soy isoflavones, which mimic estrogen in their structure. Isoflavones can help with supporting heart health, reproductive health and assist in weight loss.
Omega fatty acids – an essential anti-inflammatory fatty acid, omega-3 improves brain function and keeps the skin supple and hydrated.
Digestive blend – to support your gut and digestion, VitaWomen provides enzymes that help you digest protein, carbohydrates, fats, and fibers.
Red raspberry leaves – a support for reproductive health, red raspberry leaves help with supporting fertility and reducing unpleasant sensations related to periods.
Choline – a nutrient for the brain, it helps control mood, memory and even your muscles.
You can only achieve success if your body is healthy, supported and properly fueled. Maxler VitaWomen is a powerful blend of all the nutrients a woman might need for a healthy, successful life.