Improving performance through hydration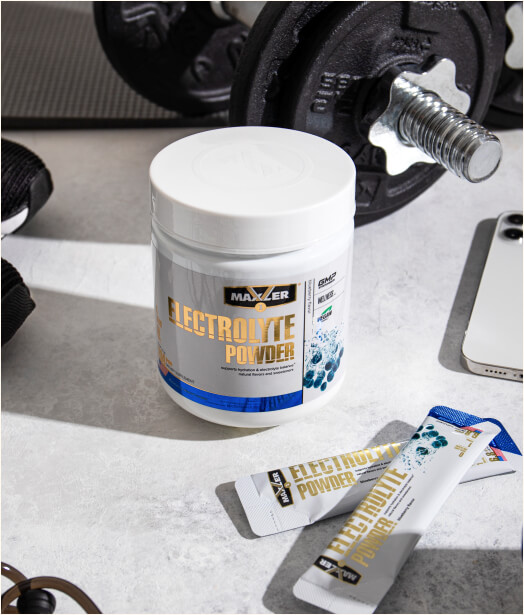 supports hydration
promotes electrolyte balance
natural flavors and sweeteners
Every successful athlete needs to be drinking enough water. This allows our body to stay cool and perform well. Losing even a little bit of water, around 1.5% of our body weight, impacts performance, both physical and cognitive.
The water we drink has minerals in it, such as calcium and chloride. Our body requires these minerals to function properly. When we exercise, we sweat, and with sweat we lose a lot of these beneficial micronutrients. Therefore, we need to replenish them during and after exercise.
However, drinking normal water may not be effective for rehydration and to replenish these minerals. That's because the water contains the electrolytes in small amounts. Sports drinks, such as those containing electrolytes, have these minerals in a concentration that is like our blood concentration. This allows for a more efficient rehydration and restoring electrolyte balance.
Electrolyte Powder – supporting performance
Maxler Electrolyte Powder is a formula that transforms your normal water into an electrolyte-filled drink. Here are the benefits of each of the electrolytes found in Electrolyte Powder:
Sodium helps with muscle contractions as well as maintaining blood pressure.
Potassium works together with sodium and helps regulate water levels and heart rate.
Magnesium is great for nerve, brain, and heart function.
Chloride can help correct blood acidity.
Calcium helps our nerves send signals and our muscles contract.
Maxler Electrolyte Powder provides your body with the necessary electrolytes for a great workout. The vegan powder contains no artificial flavors and colors and ensures you stay hydrated no matter what you're doing.