Perfectly balanced amount of most important vitamins and minerals for your health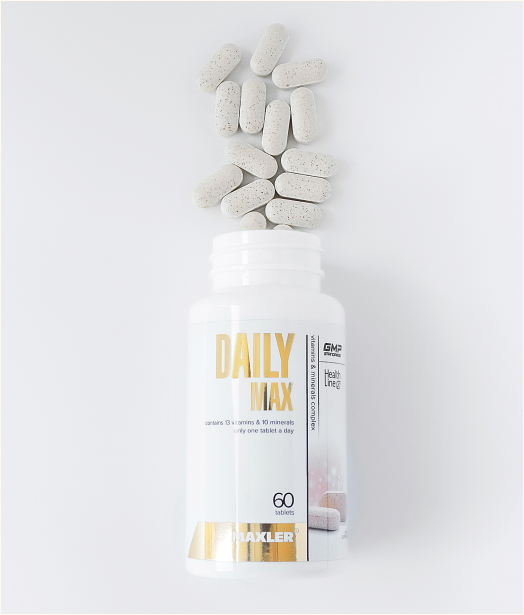 vitamin & mineral complex
13 vitamins & 10 minerals
strength and beauty
To maintain good health, people need to get enough vitamins and minerals. Stress, a hectic pace of life, sleep and dietary disturbances can make a human body prone to developing deficiencies of these micronutrients. Food serves as a natural source of vitamins and minerals. But when it comes to stressful situations, increased physical or mental activity – you need an additional source to keep up with all aspects of your life.
Benefits of the components of Daily Max
Daily Max provides a comprehensive effect on all body systems:
Strengthens the immune system;
Contributes to brain function;
Supports skin health;
Promotes musculoskeletal system health.
Daily Max is a complex of vitamins and minerals with high bioavailability. This ensures their complete absorption and further flow to the cells of the body.
Zinc, vitamins D, C and A are immuno-nutrients. Their action is aimed at ensuring the healthy functioning of the immune system, which increases the body's resistance to infectious diseases.
B vitamins and Magnesium are indispensable for improving mental performance; they help control stress and calm the nervous system. The combination of Calcium, Magnesium, vitamin D with a complex of powerful antioxidants (vitamin C and A) ensures strong bones and good skin condition.
The Daily Max complex is designed for a modern person, taking into account their needs. Daily Max helps to maintain good health and vitality.