Supporting male health on a cellular level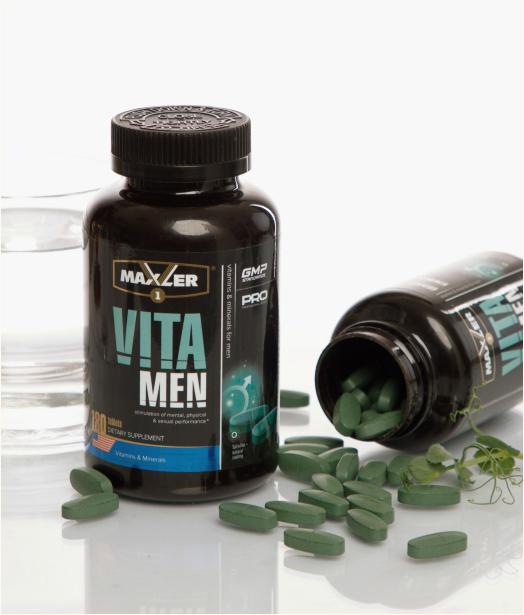 vitamins and minerals for men
stimulates mental, physical performance
contains a complex of amino acids
Are you trying to balance your active lifestyle with your success at work? When you're trying to have it all, you need all the support you can get. That's why it's essential for you to have a healthy diet that provides your body with all the micronutrients it needs for optimal performance, whether that's in the gym, at work, or at home.
VitaMen is a blend complex with specific key minerals and exotic phytonutrients designed specifically for men to enhance your male edge. With life constantly throwing challenges your way, VitaMen can become your trusted companion aiding in recovery and boosting your energy.
VitaMen – for those reaching for the moon
VitaMen's unique formula combines 13 vitamins and 9 minerals with a variety of additional beneficial components that have numerous advantages to your health, concentration, performance and general well-being:
Keeping the prostate healthy – saw palmetto berry extract, lycopene, lutein, and stinging nettle root help improve prostate health.
Boosting sexual function – damiana leaf is a sexual stimulant and an aphrodisiac. Pumpkin seeds and lycopene help improve fertility in men.
Improving cognition – Korean ginseng can help increase alertness, and oat straw extract helps improve mood and brain function. Choline is a brain nutrient that helps with mood and memory.
Digestive blend – to support your gut and digestion, this formula provides enzymes that help you digest protein, carbohydrates, fats, and fibers.
Improving health – VitaMen contains a variety of ingredients that have antioxidant properties or help with immunity, like deodorized garlic, citrus bioflavonols and l-glutathione.
Building muscle – not only does VitaMen include the vitamins and minerals needed to build muscle, it also includes a blend of amino acids to help you meet your protein goals. Other components like lycopene help increase testosterone levels, which makes it easier to build muscle.
So, for those men that have a lot on their plate and are striving for success, VitaMen can be an easy addition to your routine that helps improve your overall health and performance.