A key mineral for overall health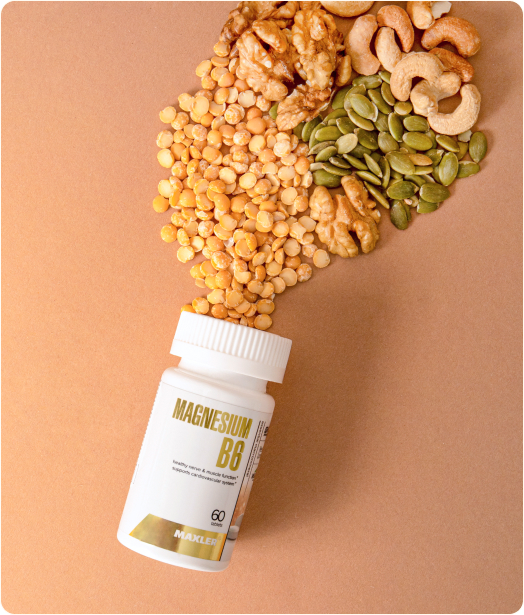 enhancement of heart performance
regulation of nervous system activity
decrease fatigability and irritation
A healthy body requires a healthy and balanced diet, full of the necessary micronutrients. Some micronutrients are better when had together. That is the case for magnesium and vitamin B6. Magnesium is a mineral that is essential in supporting many body processes, taking part in over 600 reactions in our body. Vitamin B6 supports the assimilation and activity of magnesium in the body.
Efficiently supporting health
The magnesium-B6 combination is great at supporting multiple aspects of our health, including:
Cardiovascular health – magnesium may help with improving blood pressure and can keep our blood fats and levels of bad cholesterol in check.
Stress and mood– magnesium and vitamin B6 can make it easier to deal with stress, improving quality of life, mood.
Sleep – both magnesium and vitamin B6 support better sleep as they help with increasing levels of GABA, which is a neurotransmitter that helps relax our brain. This makes it easier for us to go to sleep.
Controlling blood sugar – magnesium may help increase our body's sensitivity to insulin, which can help with maintaining healthy blood sugar levels.
Decreasing inflammation – magnesium can help with decreasing oxidative stress and inflammation, especially during long-term stress.
Bone strength – magnesium is key for bone health, keeping bones strong as we age.
Maxler Magnesium B6 is a convenient supplement that fits any lifestyle, as the tabs are vegan and gluten-free. This potent formula supports many aspects of health and can help you feel and perform at your best.