Simple mineral - complex action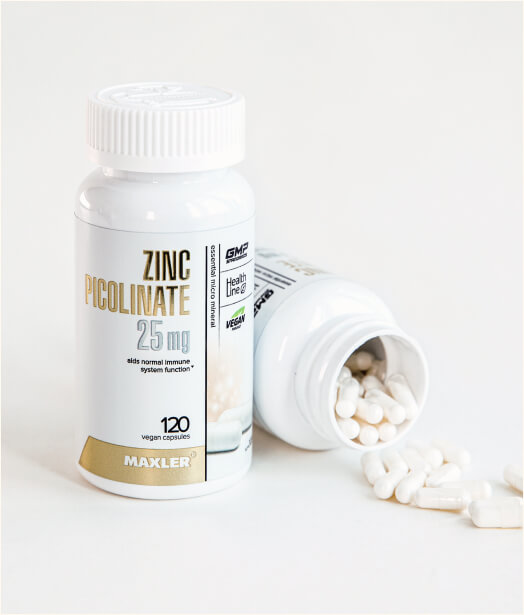 boosts the immune system
promotes healthy skin
helps regulate metabolism
The biochemical processes in our body rely on regular intake of a variety of minerals. The minerals can be used by enzymes, the active proteins of the body, to carry out biochemical reactions. They play important roles in ensuring we stay healthy and that our body functions normally. Zinc is an essential mineral that provides all-round support to the body.
Zinc – the body's support
Zinc is very versatile, helping over 300 enzymes do their job properly. Some of its main functions have to do with immunity, nerve function and metabolic processes. Here are some of the key benefits of zinc:
Immune support – our immune system uses zinc to send signals and fight sickness. It also helps to decrease oxidative stress. Taking zinc when you're sick can boost your immunity and help you recover faster.
Helping heal wounds – zinc helps our body make collagen, which is a key building block of our skin. Its anti-inflammatory properties and collagen-boosting action can help heal wounds and cuts.
Decreasing inflammation – zinc has anti-inflammatory action, which helps to protect our body from issues caused by long-term inflammation and oxidative stress.
Decreasing acne – those that suffer from acne can benefit from taking zinc. Zinc is antibacterial, helping to decrease the growth of the bacteria that cause acne. It decreases inflammation, which is common with acne.
Zinc Picolinate 25 mg is a premium quality supplement that quickly replenishes the lack of zinc in the body. This formula would become a great addition to a well-balanced diet and provide invaluable support to the whole body!