A molecular approach to beauty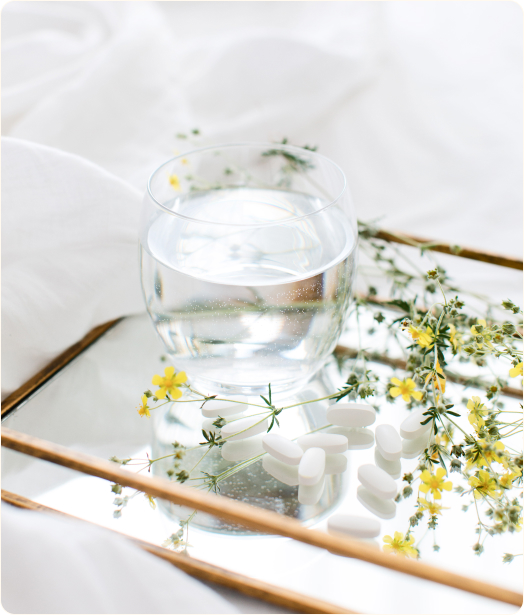 promotes collagen synthesis
regeneration support complex
hair, nails & skin repair
In an increasingly busy world, it's important to be able to support your beauty. Unsurprisingly, there's no magical pill that will ensure you remain youthful and beautiful without effort. Beauty requires work, from getting enough sleep to getting exercise and plenty of nutrients.
However, you can make it easier for your body to stay beautiful by providing it with the right nutrients. As your skin, nails and hair are all made up of structural protein, collagen, it's important to give our body the nutrients it needs to make this molecule.
How does the formula work?
Collagen is made by our cells through using amino acids. These include proline, lysine and glycine. These amino acids need the help of vitamin C. This vitamin helps to make proline into a form that can be used by our cells to make collagen.
Alongside this, collagen requires zinc and copper, which are key minerals. Zinc is key in many reactions that happen in the body. Zinc is used by an enzyme, collagenase, which helps to break down any collagen that isn't used or has been damaged. Copper helps collagen molecules link up, forming tissues.
All of these great ingredients are inside this formula to help your cells build collagen. Alongside these, the formula includes silicon and MSM. Silicon may also help boost collagen making, but its benefit also lies in its ability to help keep skin moisturized. MSM is an organic form of sulfur. It helps keep skin elastic, maintains collagen and can protect skin from stressors that cause aging.
Maxler Hair Nails Skin will become your go-to formula for supporting the health and youthfulness of your skin, hair, and nails. These vegan tablets are a convenient way to get the most important minerals and amino acids to ensure you stay radiant.